Now Samuel Eto'o have expand his carrier to FC Internazionale and 5 years contribution in Barca not will forget. The Cameroonian striker has prove himself as a one of best striker in the world at 5 years in Camp Nou. The third's Barca all time top scorer have netted almost 100 goals for Barca. He also score a vital goal in Champions League 2006 Final in Paris when he scored equalizer goals againts Arsenal and his goal made a team boost for victory in Champions League title. He also score a first goal agaist Manchester United in Champions League 2009 in Rome.
Thanks again for you Samuel Eto'o and hopefully you have more succesful carrier in italy and of course you can succes because you are one of lengend in Barca and best striker in the world.
Now I would to say good bye Eto'o and thanks for everything and welcome our new Barca boy Zlatan Ibrahimovic also called as "IbraCadabra" with lethal skill as striker who won a "Capocannonieri"(Italian Seria A top Goalscorer) last season with Inter....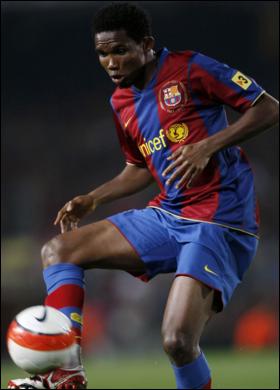 Goodbye Samuel Eto'o
Welcome Zlatan Ibrahimovic